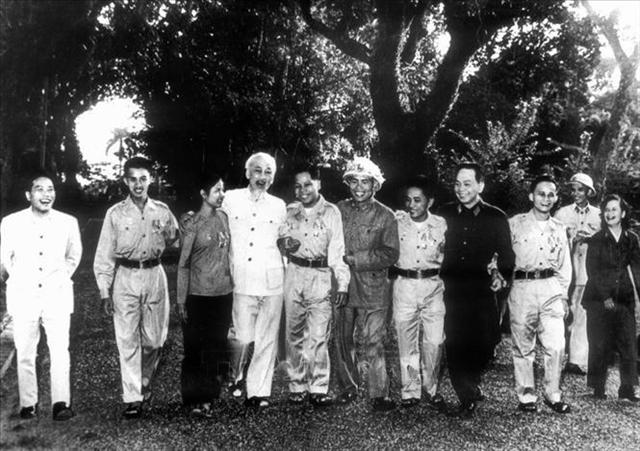 COMPATRIOTS: A photo by Vũ Đình Hồng featuring President Hồ Chí Minh receiving heroes and heroines from the south in the President Palace in Hà Nội in November 1965. VNA/VNS File Photos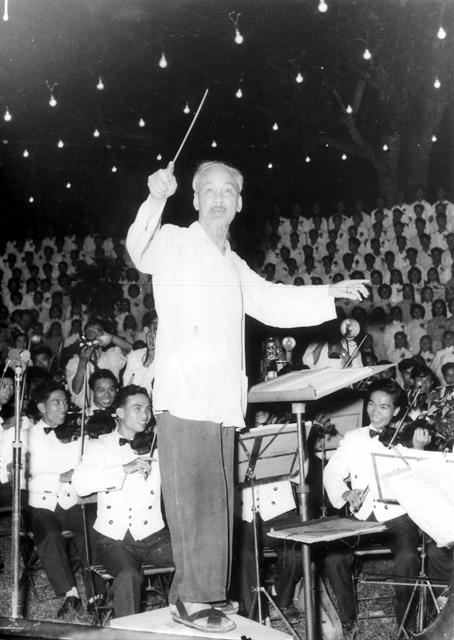 A WAVE OF A BATON: This photo, considered a symbol of national solidarity, features President Hồ Chí Minh conducting the Việt Nam Symphony Orchestra in singing a song of solidarity at a gala celebrating the third National Party Congress in Bách Thảo Park, Hà Nội, on September 3, 1960. Photographer Lê Hồng Long was awarded the Hồ Chí Minh Prize in Literature & Arts, the highest award of its kind, for this photo
MOMENT OF TRIUMPH: Việt Nam's flag flying atop the French command bunker in Điện Biên Phủ, marking the victory of the Vietnamese people and army over the French on May 7, 1954. Photographer Triệu Đại of the Vietnam News Agency was awarded the State Prize in Literature and Arts in 2000 for his photo collection on the victorious Điện Biên Phủ battle.
STRUGGLE CONTINUES: "Road to the Front" by photographer Văn Sắc, who received the State Prize in 2006 for this photo. It shows trucks from the north driving through bombed out sections of jungle to the south in 1975, during the historic Hồ Chí Minh Campaign.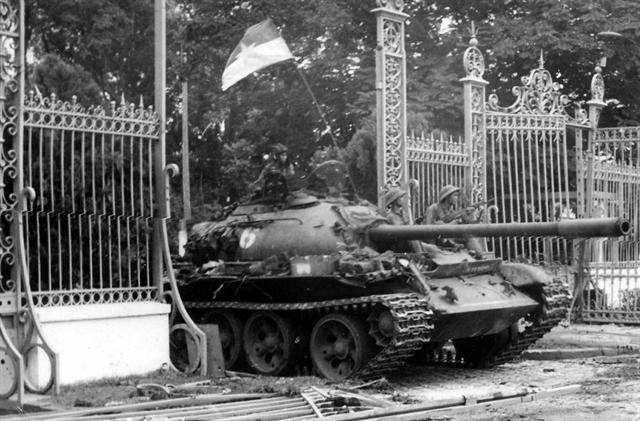 FINAL BREAKTHROUGH: One of the first tanks to arrive at Independence Palace in Sài Gòn on April 30, 1975. The photo was taken by journalist Trần Mai Hưởng, former Editor-in-Chief of Việt Nam News and former General Director of the Vietnam News Agency
Writers of history 
Throughout its 75 years, staff from the Vietnam News Agency witnessed key moments in the country's history, living among the people to reflect every aspect of life.
WITNESSES TO HISTORY: President Hồ Chí Minh (fourth from left, front row), Vice President Tôn Đức Thắng (third from left), and Chairman of the National Assembly's Standing Committee Trường Chinh (6th from left), photographed with journalists covering the third National Party Congress in 1960. The woman sitting between President Hồ and Trường Chinh is journalist Huỳnh Ngọc Hường from the Vietnam News Agency, while the man (with glasses) sitting behind the President is journalist Lê Bá Thuyên, deputy director of the Vietnam News Agency. VNA/VNS File Photo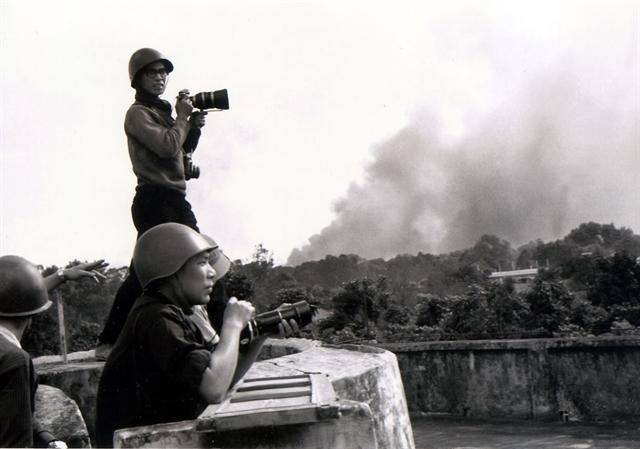 UNDER ATTACK: Staff from VNA watch a US bombing raid from the top of the office building at 18 Trần Hưng Đạo Street, Hà Nội, in December 1972. VNA/VNS File Photo
TOWARDS THE STORY: A group of VNA journalists from Hà Nội heading to the south in 1975. VNA/VNS File Photo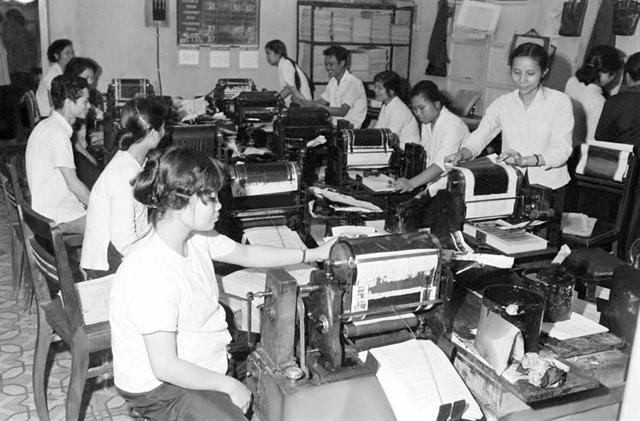 DAILY REPORTS: The printing department of the Vietnam News Agency in Hà Nội worked day and night in 1975 to print news on the war in the south. VNA/VNS File Photo
BEYOND REPORTING: Journalists from VNA's Đà Nẵng office spray antiseptic solution in Sơn Trà District during the COVID-19 outbreak in the city in August, 2020. VNA/VNS Photo Trần Lê Lâm
Source: VNS