The contributions of nearly 500 NGOs in more than 5000 projects - over US$650 million of aid that will be deployed in the period 2020-2022 in the fields of need in Vietnam were also recognized and honored at the ceremony.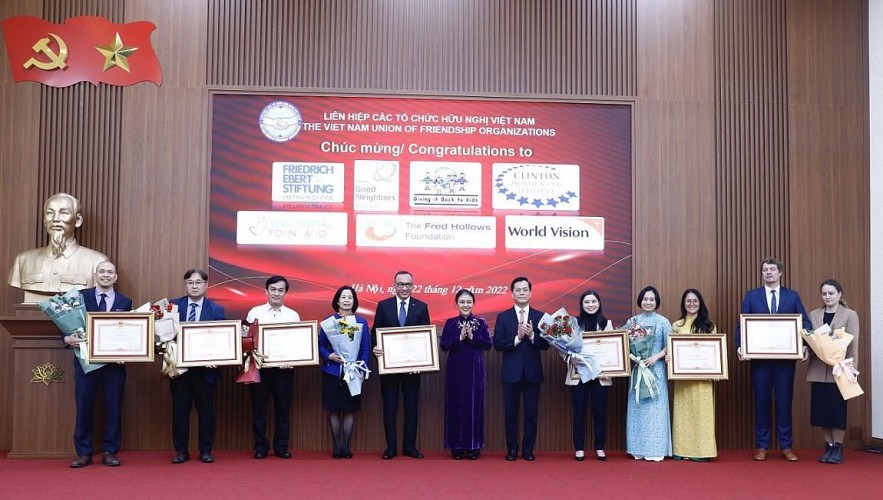 VUFO President Nguyen Phuong Nga and Committee for Foreign NGOs Affairs Chairman Ha Kim Ngoc awarded the Prime Minister's Certificate of Merit to 7 NGOs with outstanding contributions to Vietnam's socio-economic development and Covid-19 prevention (Photo: An Dang).
Speaking at the ceremony, VUFO President Nguyen Phuong Nga thanked and highly appreciated the contributions of NGOs during the past time, which have joined hands with the Vietnamese government and people in of hunger eradication and poverty reduction, economic development, social problems solving, contributing to the sustainable development of Vietnam. Those contributions have been offered in one of the most difficult times for Vietnam when the Covid-19 pandemic broke out on a global scale.
Ambassador Ha Kim Ngoc, Deputy Minister of the Ministry of Foreign Affairs, Chairman of the Committee for Foreign NGOs Affairs said: "Every contribution of NGOs, whether material, experience, intellectual or manpower, all assist to change the future and bring a better life to the Vietnamese people, especially those in difficult circumstances. NGOs are also envoys bringing the image of the country and people of Vietnam to the world and bringing the world to Vietnam, contributing to consolidating and cultivating cooperative and friendly relations, mutual understanding, and trust between the Vietnamese people and the progressive people in the world".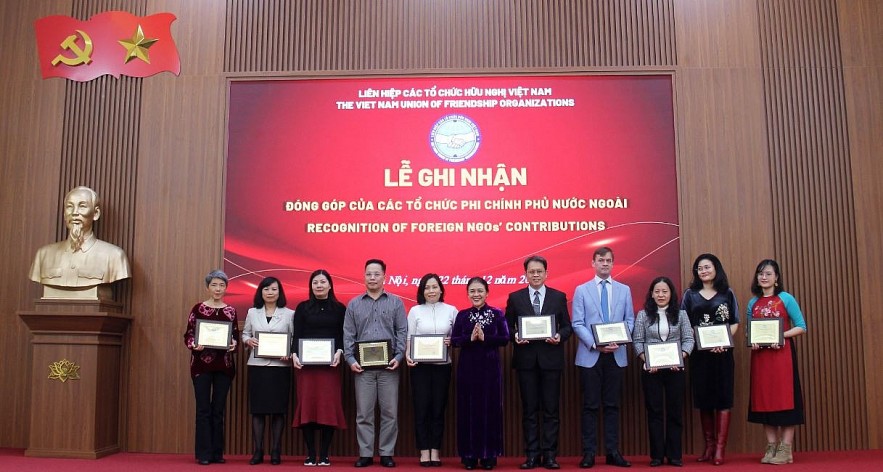 VUFO President Nguyen Phuong Nga presents the Certificate of Merit from VUFO to INGOs that have made positive contributions to Vietnam's economic, social and security development. (Photo: Hai An).
According to Chairman Ha Kim Ngoc and President Nguyen Phuong Nga, Vietnam wishes to continue to receive the support and companionship of NGOs. They commit that VUFO and COMINGO will stand side by side and create favorable conditions for NGO activities in Vietnam.
Earlier, at the Conference to share information and review the National Program on Strengthening Cooperation and Advocacy for INGO aid for the 2019-2025 period, Phan Anh Son, Vice President - General Secretary of the VUFO, Vice Chairman of the COMINGO provided information on the global and regional context affecting NGO activities in the 2020-2022 period. He also spoke about achievements and shortcomings in the implementation of the National Program and orientations for the coming time.
In the period 2020-2022, although the global, regional and domestic situation shows unfavorable developments for NGO activities in Vietnam, with the efforts of VUFO and COMINGO, and the support from agencies participating in the commission mechanism, ministries, localities, especially the support from INGOs, foreign NGOs remained and achieved positive results. More than 5000 projects and grants have been deployed in areas of Vietnam's need and achieved aid disbursement value of over US$650 million. The relationship among NGOs, Vietnamese agencies, and partners continues to be strengthened, and the effectiveness of programs and projects continues to be improved.
Talking to representatives of NGOs, Phan Anh Son affirmed the important role of NGOs in poverty reduction, sustainable development, and international integration of Vietnam. He confirmed that VUFO, agencies, and localities will continue to cooperate to build a close coordination and information exchange mechanism to effectively support NGOs and mobilize more funding sources for Vietnam in the coming time.
Source: Vietnam Times
Organizations receiving certificates of merit from the Prime Minister:
1. The Clinton Health Access Initiative, Inc. (CHAI/US)
2. Fred Hollow Foundation (FHF/Australia)
3. Fredrich-Ebert-Stiftung (FES/Germany)
4. Giving It Back To Kids (GIBTK/US)
5. Good Neighbors International (GNI/Korea)
6. The VinaCapital Foundation (VCF/USA)
7. World Vision International (WVI/USA)
Organizations receiving VUFO's certificates of merit:
1. The Dariu Foundation/Switzerland
2. Norwegian People's Aid (NPA)/Norway
3. MSI Reproductive Choices/UK
4. Center for Tropical Medicine - Oxford University Clinical Research Unit (CTM/OUCRU)/UK
5. ActionAid International (AAI)/Established under the laws of the Netherlands
6. Flemish Association for Development Cooperation and Technical Assistance (VVOB)/Belgium
7. Save the Children International (SCI)/UK
8. Plan International (PLAN)/USA
9. Medisch Comité Nederland - Vietnam (MCNV)/Netherlands
10. Stichting IDH Sustainable Trade Initiative (IDH)/Netherlands
11. Catholic Relief Services-United States Conference of Catholic Bishops /CRS/USA
12. Samaritan's Purse International Relief/SPIR/USA
13. Winrock International /WI/USA
14. The Beth Israel Deaconess Medical Center, Inc. /BIDMC/USA
15. Population Services International /PSI/USA
16. The University of North Carolina /UNC/USA
17. Operation Smile, Inc. /OS/US
18. American National Red Cross /AmRC/USA
19. DKT International, Inc./DKT/USA
20. Développment International Desjardins/DID/Canada
21. Buddhist Compassion Relief TZU CHI Foundation/Tzu Chi/ China (Taiwan)
22. Action on Poverty/AOP/ Australia
23. Blue Dragon Childen's Foundation/BDCF/ Australia
24. ChildFund Australia/ ChildFund/ Australia
25. Care International/CARE/Australia
26. Korea Food for the Hungry International/KFHI/Korea
27. Zhi Shan Foundation/ Zhi Shan/ China (Taiwan)
28. International Manpower Development Organization, Japan/ IM Japan/Japan
29. Help Age International/HAI/UK
30. World Wide Fund for Nature/WWF/ Switzerland.