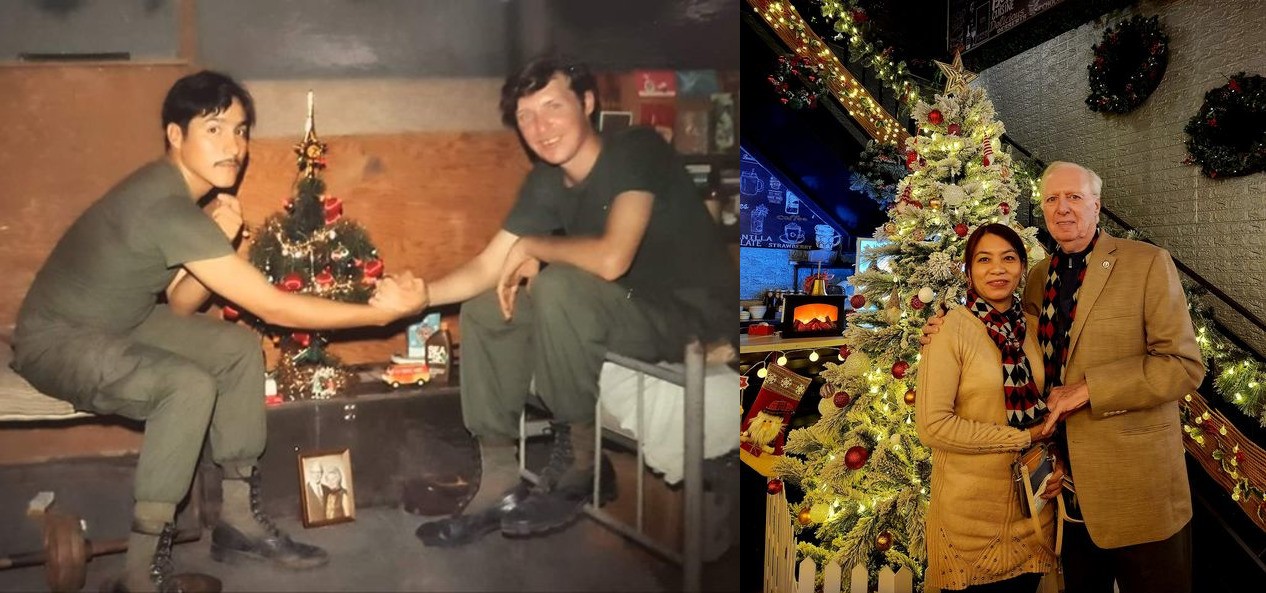 Christmases in Vietnam, 51 years apart. Photo courtesy of Matthew Keenan.
For American veteran Matthew Keenan, Christmas and family are inseparable. When living in Bronx, New York, Matthew's family would start the Christmas season on December 25th, which was also the birthday of Matthew's father. The celebrations would continue until January 6th, the Feast of the Epiphany and, coincidentally, his mother's birthday.
"My family was stuck on tradition," says Matthew, smiling at holiday memories. As a deeply Catholic family, the Christmas season was heavily revered in the Keenan household.
Unfortunately, the first Christmas Matthew spent apart from his family was in 1971, during the later years of the Vietnam-American War. He was thousands of miles away from his family, childhood friends, and even an authentic Christmas tree.
"To be away from home for the first time was very strange," says Matthew. "But we made the best of it."
During Matthew's service, the American military was in a process of de-escalation, following a series of strategic defeats and waning public of opinion of the war. For many of the soldiers stationed in Da Nang, their spirits were low. To boost morale, the festively-named "Operation Jingle Bells" was launched.
"It was a very top secret code," jokes Matthew.
American soldiers, attending a Christmas concert on Freedom Hill. Photo courtesy of Matthew Keenan.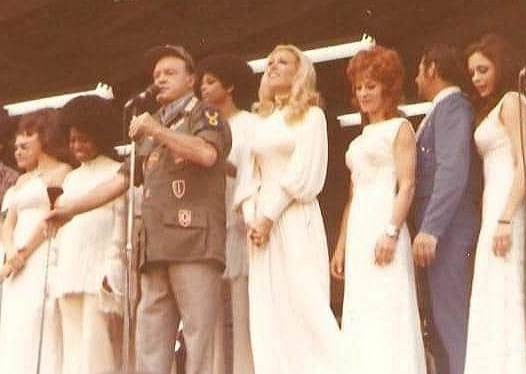 Comedian Bob Hope, entertaining the troops. Photo courtesy of Matthew Keenan.
Military personnel sought to recreate a traditional American Christmas on the shores of Vietnam. The mess hall cooked up a turkey dinner, complete with plenty of mash potatoes and cranberry sauce. British-American comedian Bob Hope entertained a massive crowd of Americans on Da Nang's "Freedom Hill." It was given this name because it was the last thing American soldiers saw before returning to the States.
Overhead, a single-engine prop plane slowly flew over the base, broadcasting Bing Crosby's "White Christmas." The song juxtaposed Vietnam's green, tropical landscape.
While quite different from his previous Christmases, Matthew was still able to receive a few presents from his friends and family while stationed in Da Nang; a small plastic tree and a picture of his beloved parents. In his bunker, Matthew and a South Vietnamese soldier bonded together, beside the tiny tree.
However, this was not destined to be Matthew's last Christmas in Vietnam. After returning to Vietnam in 2015, he quickly made friends within the Da Nang community. No longer was the coastal city occupied with foreign soldiers and war machines. Instead, post-war Da Nang was a Vietnamese marvel, emblematic of the nation's successful economic boom.
Wanting to give back Da Nang and reconcile with the past horrors of war, Matthew began to do a charity work with local organizations, specializing in support of Agent Orange victims. Matthew, who suffers from an Agent Orange-related illness, is quite passionate about helping his new Vietnamese friends.
Matthew's altruism caught the attention of Lan, a resident of Da Nang. Inspired by his kind heart and deeds, Lan (or as she prefers the Americanized Lana), was very keen on meeting with Mr. Keenan.
Their courtship began when Matthew was back in the States, visiting family. Everyday she would call him and remind him to take his medicine. Sensing her compassion, Matthew knew she was a good woman before they even met.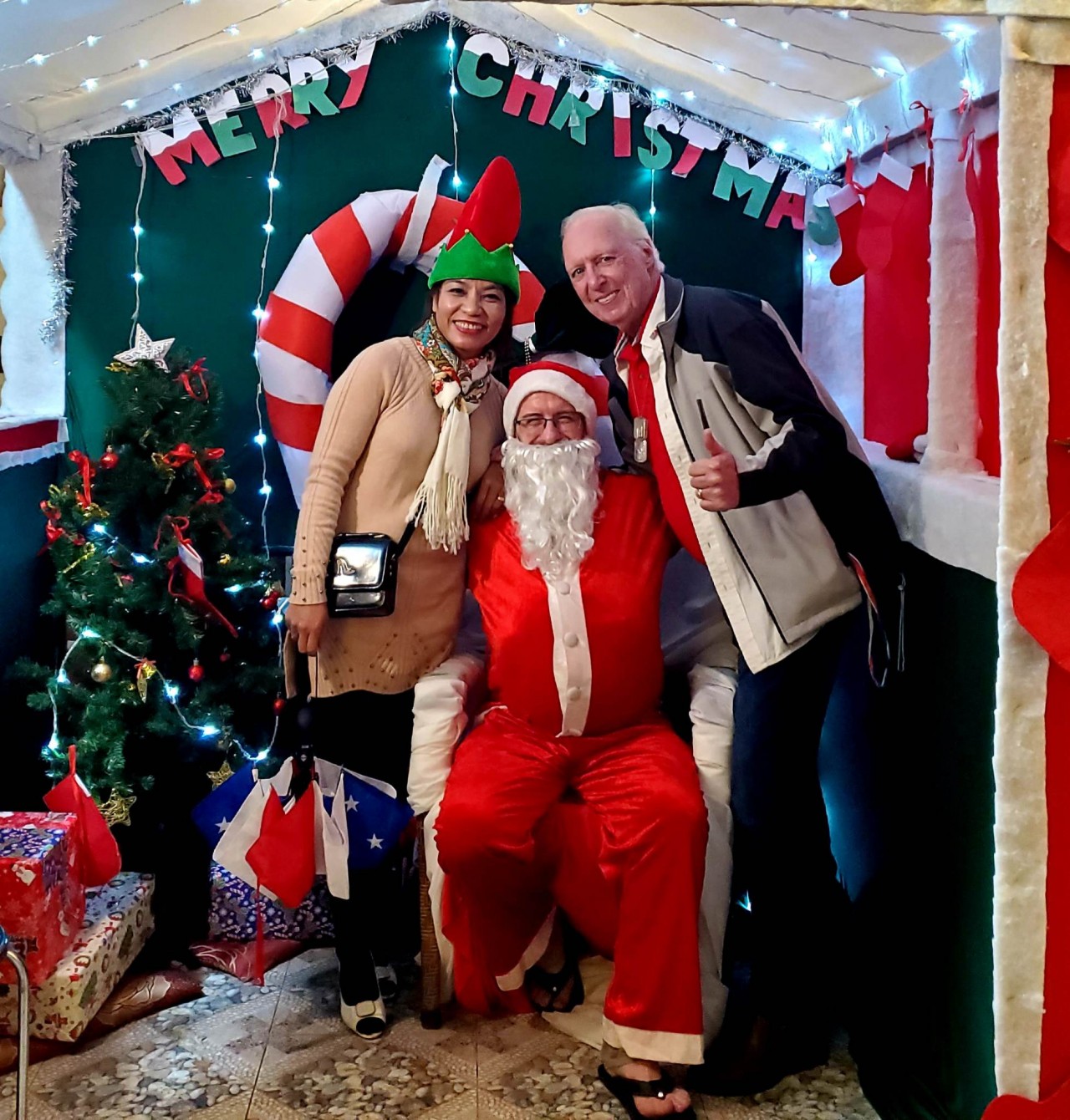 Matthew and Lana, meeting Santa. Photo courtesy of Matthew Keenan.
Upon returning to Vietnam, Lana helped Matthew as he mourned his friend who recently died due to an Agent Orange-related illness. Although they can only communicate through a translation app, the older couple have learned a deeper understanding of each other.
"You have to have a connection of compatibility, trust, comfort, and respect," says Matthew when asked about his relationship. "It hasn't been a problem, we have a nice foundation and open communication."
During the lengthy Covid lockdowns, the two decided to get married, adding much excitement to the humdrum period.
Like most couples, the two enjoy celebrating Christmas together despite coming from different backgrounds. Lana, a Buddhist, does not fully understand the religious complexities of the holiday. Yet, like many others in Vietnam, she recognizes Christmas as a peaceful time when loved ones exchange gifts.
Matthew and Lana's new family extends to the children and staff at the Da Nang Association for Victims of Agent Orange (DAVA). While Matthew and Lana work with the day center throughout the year, working during the Christmas season has a certain magic, especially for young children.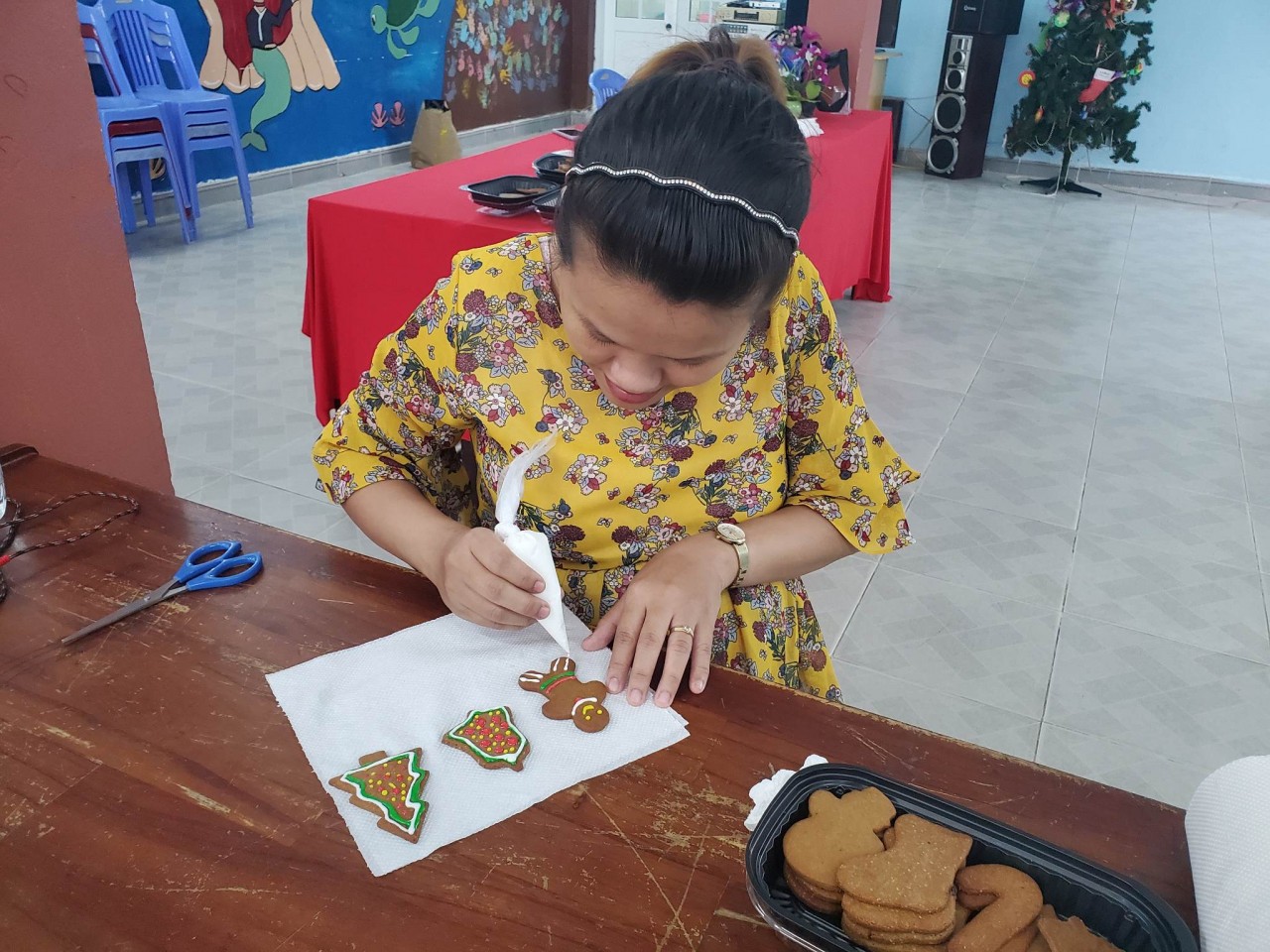 Decorating Christmas cookies. Photo courtesy of Matthew Keenan.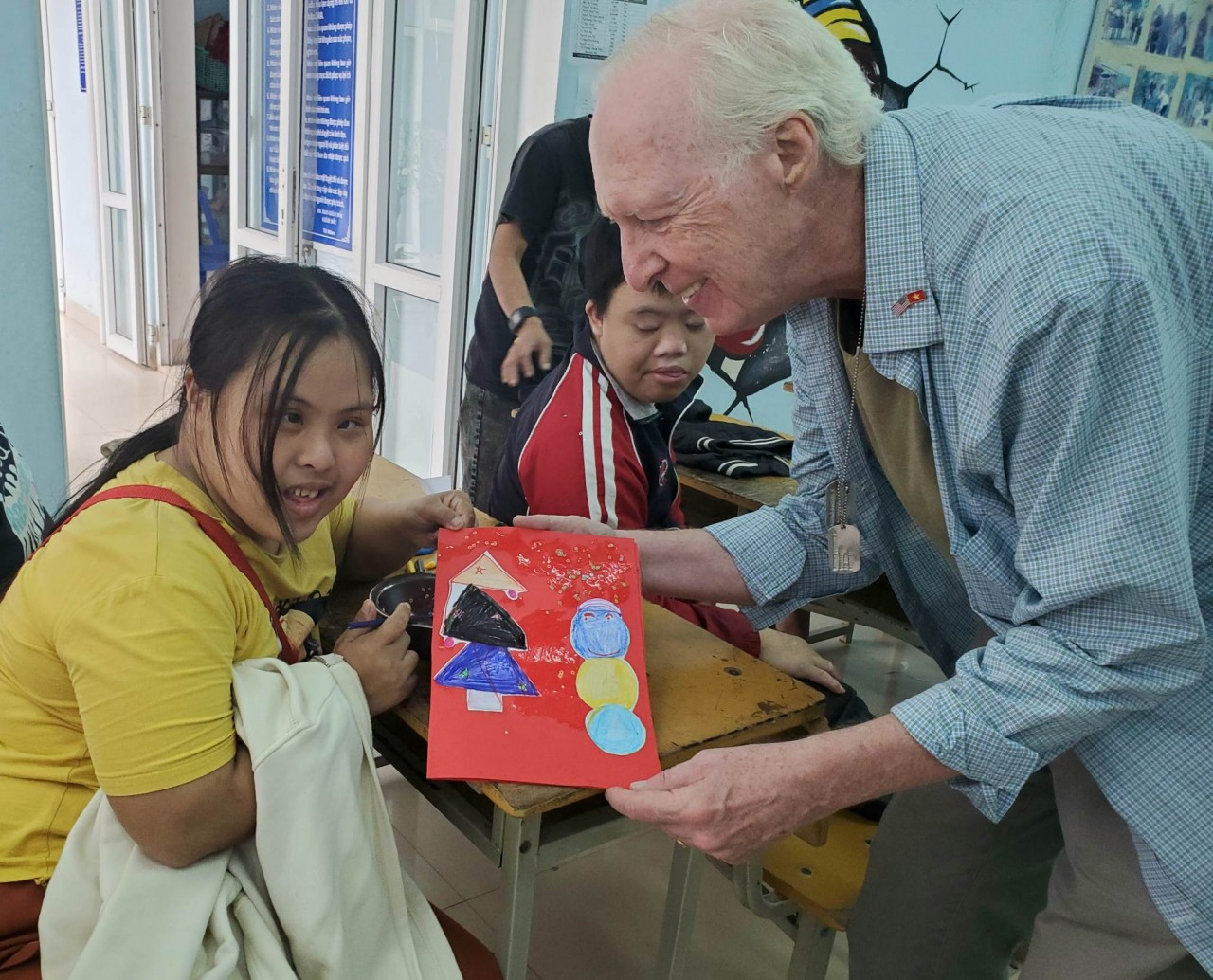 A cheery Christmas at DAVA. Photo courtesy of Matthew Keenan.
As Christmas approaches, Matthew and Lana help the children create festive drawings and decorate cookies. The couple leads the children in song, perfoming traditional Christmas carols with simple English.
Although a Vietnamese Christmas is wildly different from the American Christmases of his youth, Matthew still recognizes the most important aspects of holiday are still at play.
"While it's nice to recreate the traditions of Christmas, I'm more interested in extending goodwill towards men," says Matthew. "That's what I look for."
The war is long over yet Operation Jingle Bells still continues in Da Nang, thanks to Matthew and his new Vietnamese family.
As an American veteran living in Da Nang, Matthew Keenan has a long and complicated relationship with Vietnam. When he was a young man, he arrived in Vietnam an enemy combatant. Now, in his golden years, he is welcomed back as an old friend. To learn more about his personal experience in Vietnam, read his interview with the Vietnam Times.
To learn more the peacekeeping efforts of American veterans, read Vietnam Times's award-winning article.
Source Vietnam Times