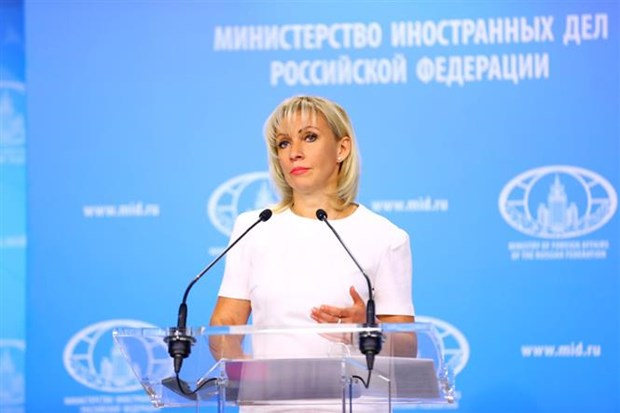 Russian Foreign Ministry spokeswoman Maria Zakharova Photo: VNA
The statement was made at a regular press taking place in Moscow on August 27 on the occasion of the 75th anniversary of Vietnam's National Day (September 2), according to Nhan Dan Newspaper.
She also highlighted that the victory of the August 1945 Revolution of the Vietnamese people under the leadership of President Ho Chi Minh put an end to foreign domination and paved the way for the establishment of a new country on the Indochinese map, the Democratic Republic of Vietnam.
The Vietnamese people fought to defend their freedom and independence in the following years, with two resistance wars against the French colonialists (1946-1954) and US imperialists, the spokeswoman said, emphasizing that the Vietnamese people's heroic struggle concluded successfully in 1975, helping reunify the country and heralding the birth of the Socialist Republic of Vietnam.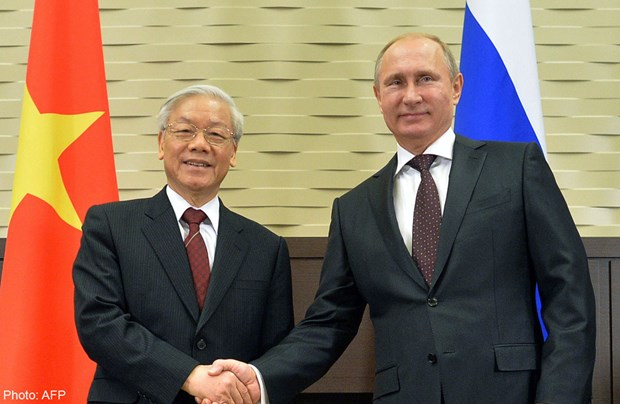 General Secretary and State President Nguyen Phu Trong shook hands with Russian President Vladimir Putin in his visit to Russia in 2014 Photo: AFP
She added that large-scale political and economic assistance for many years from the Soviet Union played an important role in the early days of Vietnam's statehood.
The traditions of friendship and mutually beneficial cooperation established at that time still underpin the two countries' special bilateral relationship.
"This year, Vietnam and Russia celebrate the 70th founding anniversary of their diplomatic ties, with bilateral relations growing dynamically in the spirit of a comprehensive strategic partnership and on the basis of the rich experience accumulated over previous years", the spokesperson said.
On the occasion of the 75th anniversary of Vietnam's National Day, she extended her wishes for the peace and prosperity of the Vietnamese people.
Russia was one of the first countries to establish diplomatic relations with Vietnam, laying the groundwork for strong bilateral and economic relations between the two countries. Vietnam and Russia set up a strategic partnership back in 2001 and elevated this relationship to a comprehensive strategic partnership in 2012 paving the way for increasing economic ties.
Malie Nguyen
Source: Vietnamtimes