In its submission to UN,  Australia said: "Australia rejects China's claim to 'historic rights' or 'maritime rights and interests' as established in the 'long course of historical practice' in the South China Sea.", according to The Guardian. 
It notes "the Tribunal in the 2016 South China Sea Arbitral Award found these claims to be inconsistent with UNCLOS (United Nations Convention on the Law of the Sea) and, to the extent of that inconsistency, invalid".
Chinese frigate and destroyer in Bien Dong Sea on June 18 (Photo: PLA).
Specifically, Australia rejects China's insistence on holding "historic rights" to the South China Sea, the drawing of "baselines" to connect its occupied rocks in Vietnam's Hoang Sa (Paracel) and Truong Sa (Spratly) island chains, and China's claim to maritime zones around completely submerged features and around features only visible at low-tide conditions.
"There is no legal basis for China to draw straight baselines connecting the outermost points of maritime features or 'island groups' in the South China Sea, including around the 'Four Sha' or 'continental' or 'outlying' archipelagos," it said.
"Australia rejects any claims to internal waters, territorial sea, exclusive economic zone and continental shelf based on such straight baselines.
"Australia also rejects China's claims to maritime zones generated by submerged features, or low-tide elevations in a manner inconsistent with UNCLOS. Land building activities or other forms of artificial transformation cannot change the classification of a feature under UNCLOS … the Australian government does not accept that artificially transformed features can ever acquire the status of an island."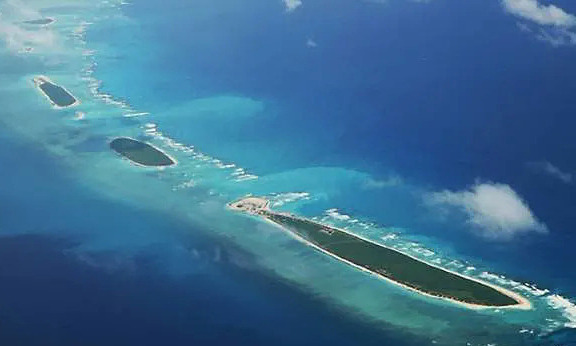 Hoang Sa (Paracel) Islands in the Bien Dong Sea (South China Sea). Photo by AFP.
The move, likely to infuriate Beijing, aligns Australia with the Trump administration, which earlier this month reversed a previous policy of not taking sides in such disputes, ABC.net reported. 
Australia has previously urged all claimants to disputed South China Sea islands and maritime features to resolve their claims in accordance with international law.
China is yet to formally respond to Australia's statement.
But it said earlier this month that the US position "neglected the history and facts" around issues concerning the South China Sea.
Australia's dramatic shift in position comes as Foreign Affairs Minister Marise Payne and Defence Minister Linda Reynolds prepare to travel to Washington next week to meet with their US counterparts for the 2020 Australia-United States Ministerial Consultations (AUSMIN).
Source: VNT