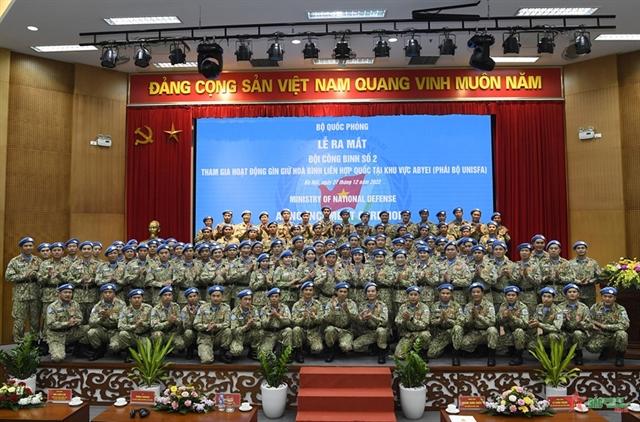 An announcement ceremony was held on Tuesday for the second military engineering unit to replace the first team to take part in the UN peacekeeping mission. — Photo qdnd.vn
HÀ NỘI – On Tuesday, the Ministry of National Defence unveiled the second military engineering unit, which will be deployed to replace the first team to Sudan for UN peacekeeping mission.
At the Vietnam Peacekeeping Department headquarters, the ministry held a ceremony to announce the second military engineering unit under the leadership of Deputy Defence Minister Sen. Lieut. Gen Hoàng Xuân Chiến.
Speaking at the announcement ceremony, Chiến requested preparations be completed in all aspects to fully meet the criteria of the UN and training continue to improve professional capacity before deployment.
He asked the Việt Nam Department of Peacekeeping, the Army Corps of Engineers, and relevant agencies to closely coordinate and effectively deploy additional training plans in foreign languages, expertise and tasks involved in peacekeeping missions.
The unit needed to focus on leadership, operations and skills in using heavy construction equipment, ensuring the security, safety and health of the officers in the area, especially during the initial stages.
Chiến also urged the completion of the equipment preparation and the plan to pack and transport equipment to the missions to perform tasks on time.
With high political determination and ample experience, thanks to the preparations and the deployment of the first military engineering unit and the efforts of the relevant units, Chiến said he believed that the Vietnamese military officers would again fulfil the mission.
Major Hoàng Kim Phụng, Director of Việt Nam Department of Peacekeeping Operations, said after the announcement ceremony, members of the second engineering unit would be assigned for specialised training, pre-deployment training, unit defence combat and other additional training before officially starting their peacekeeping missions.
On November 20, 2022, the Ministry of National Defense signed Decision No4856/QD-BQP on establishing the second engineering unit to participate in United Nations Interim Security Force for Abyei (UNISFA).
Two hundred three officers and employees, including 22 women, have been selected to participate in the unit.
On behalf of the second military engineering unit, Lieutenant Colonel Nguyễn Việt Hưng, the unit captain, promised to complete preparations in all aspects to meet the criteria of the UN fully to complete all assigned tasks. – VNS