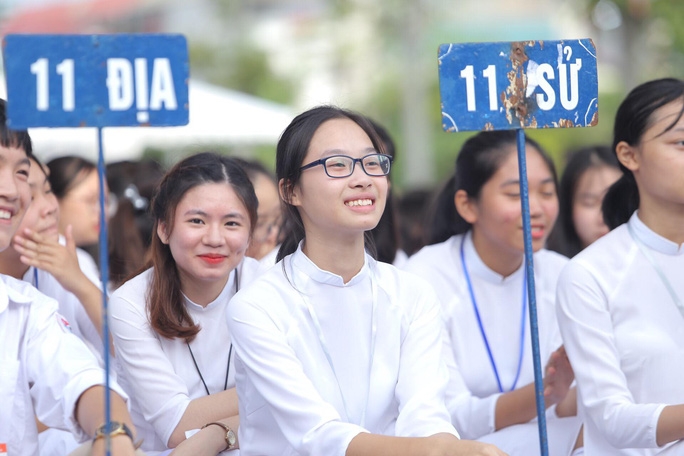 (Photo: Nguoi Lao Dong)
While most educational facilities hold the ceremony in a shorter time than the previous years, with numbers of students attend the ceremony reduced to a minimum, schools in pandemic-heavily-stricken localities turn to online platforms to welcome the new school year, an unprecedented move recorded to date.
At schools where the teachers and students meet in person for the ceremony, all preventive measures must strictly be obeyed. All classrooms and interior furniture, schoolyards, toilet areas had earlier carefully sanitized. Teachers and students are ensured they have their body temperature checked before entering schools, and their hands cleaned with sanitizers, or water and soap. Those with symptoms like fever, cough, breathing difficulties, are not eligible for the ceremony.
Student parades, balloons releasing, and ceremony rehearsal in many schools are omitted this year.
Earlier on September 4, Party General Secretary and President Nguyen Phu Trong extended his sentiments and best wishes to teachers, educational managers and employees who are working in the educational sector, along with all students and parents nationwide in a letter sent to all in the educational sectors.
In the letter, he wrote that in the 2019-2020 academic year, although the Covid-19 epidemic has directly and seriously affected the activities of the education sector, with the spirit of "Pause going to school but do not stop studying", the education sector has actively and successfully implemented epidemic prevention and control as well as ensuring the completion of the school year plan.
In the new school year 2020-2021, as the Covid-19 epidemic may still witness new developments, the education sector should continue to thoroughly grasp and effectively implement the Party and State's undertakings and policies on education and training; overcome all difficulties to implement both epidemic prevention and control as well as organizing learning for students as best as possible, he suggested.
Meanwhile, the education sector also should focus on improving the quality of education and training, especially the training of high-quality human resources, to meet the demands of the cause of national industrialization and modernization and the Fourth Industrial Revolution, Nhan Dan online reported.
Below are some images for a closer insight into the new school year ceremony across Vietnam.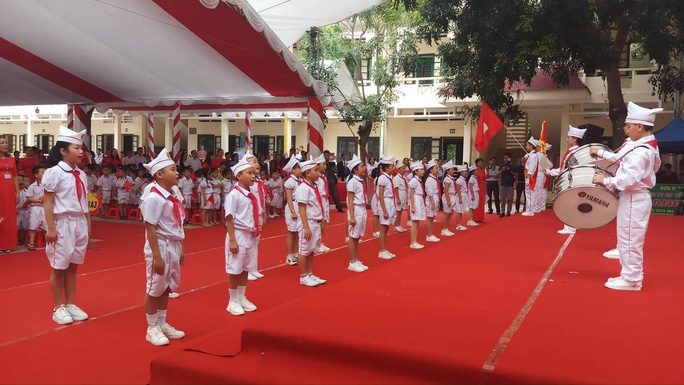 (Photo: Nguoi Lao Dong)
(Photo: VNE)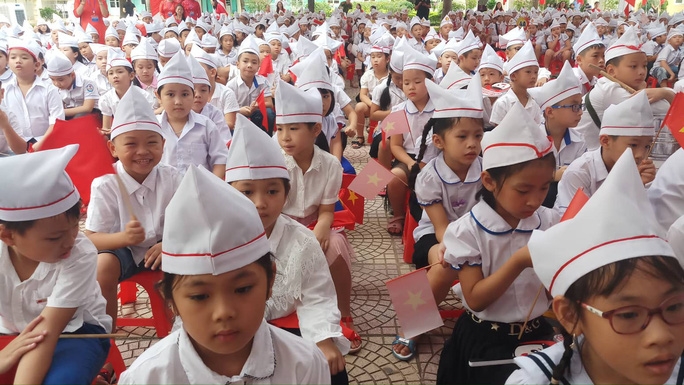 (Photo: Nguoi Lao Dong)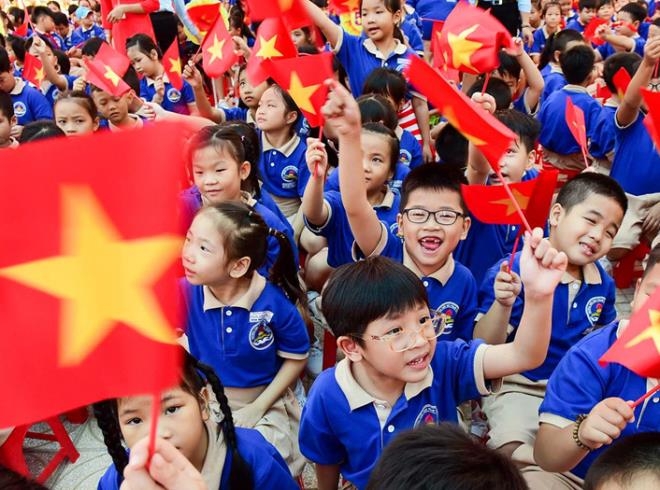 (Photo: Viet Bao)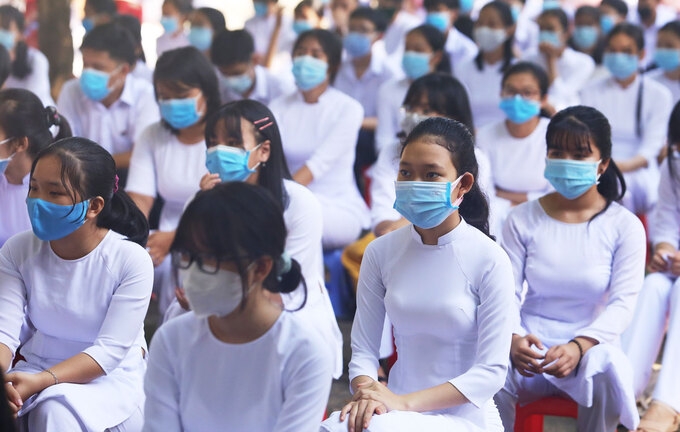 Students in Nguyen Binh Khiem high school must wear face masks while attending the ceremony (Photo: VNE)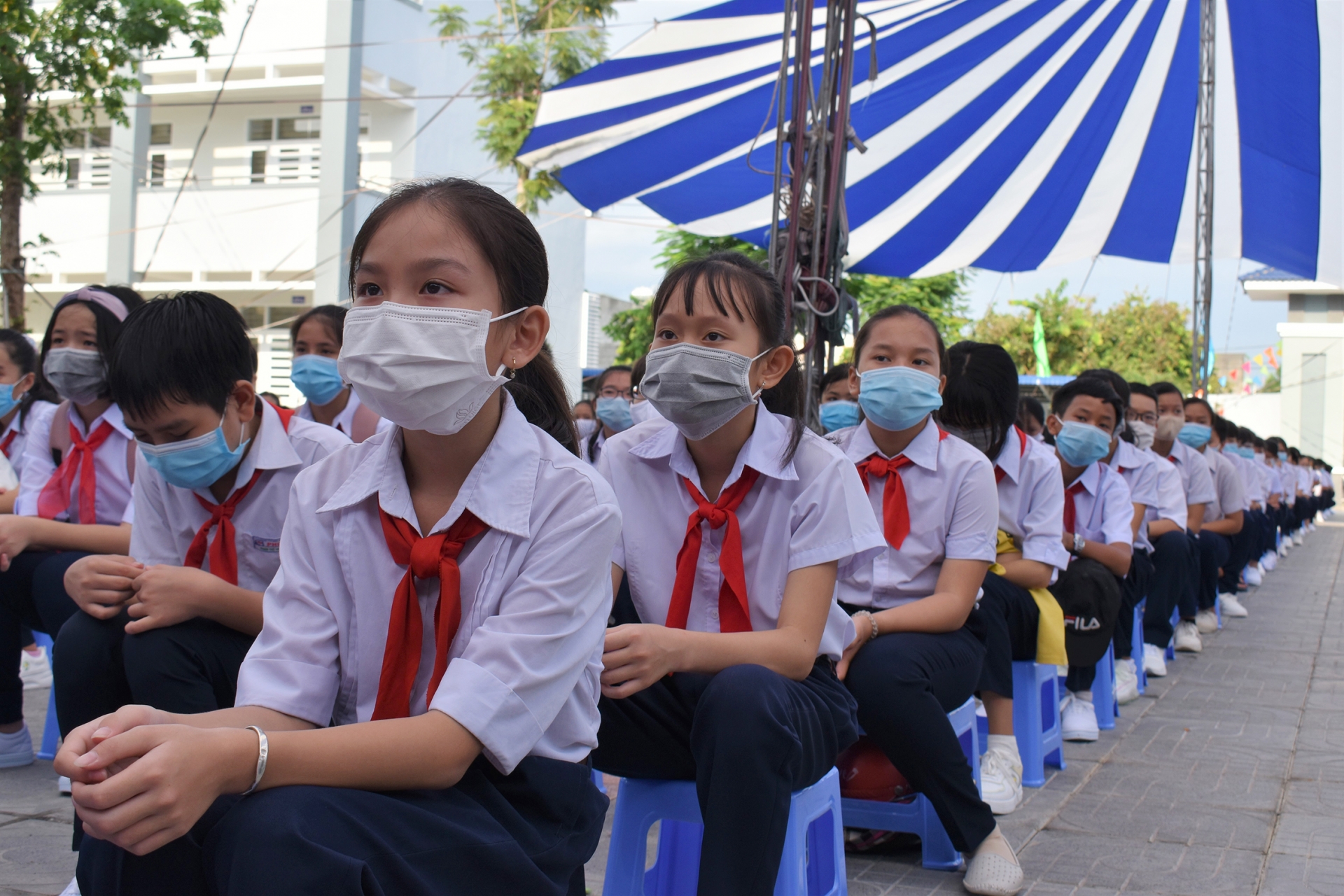 (Photo: Viet Giai Tri)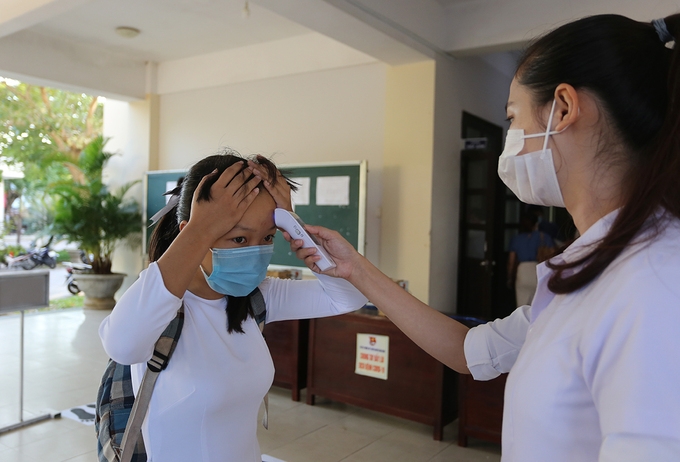 One student is checked for body temperature (Photo: VNE)
Jasmine Le
Source: VNT