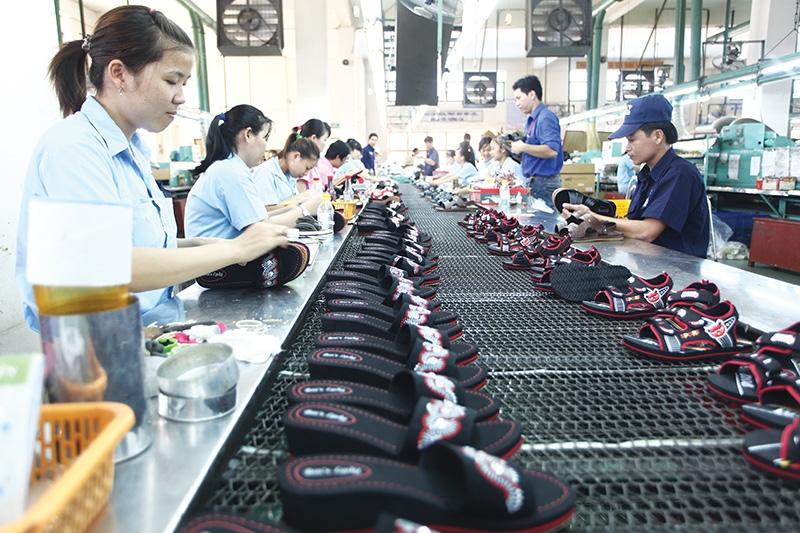 Support for workers abroad affected by COVID-19, photo Le Toan
How has the plan to send workers overseas in 2020 be affected by the outbreak of coronavirus, and how much damage could the pandemic cause this and next year?
Due to the impact of the pandemic, many enterprises around the globe that have received Vietnamese workers had to downsize operations and reduce or cancel the further recruitment of overseas workers. The number of Vietnamese workers who went working abroad has decreased dramatically. By the end of July, more than 36,000 Vietnamese workers were sent, mainly in the first three months of the year.
This difficult situation may last until the end of the year and possibly until early 2021. The DoLAB has reported to the MoLISA to adjust the expected number of workers sent abroad in 2020 and 2021 to 70,000 and 90,000 people, respectively.
How has the recent return of many workers ahead of schedule affected labour export enterprises and the interests of workers?
According to incomplete statistics from service firms and the overseas Vietnamese labour management boards, over 6,000 Vietnamese workers have returned home in the past few months. They returned for different reasons, such as expired contracts, illness, maternity, and job loss as many employers reduced their production due to the impact of COVID-19. In some markets with many Vietnamese workers, such as Taiwan, Japan, and South Korea, most are in need of returning home, but commercial flights between Vietnam and these places have not been resumed yet. To support these workers, the DoLAB reported to the MoLISA and proposed to the prime minister to soon operate flights to repatriate them.
What requirements must labourers meet to be accepted to work abroad, and which countries are still receiving them up until now?
Labour export was seriously affected by the outbreak in markets that traditionally receive large numbers of Vietnamese workers.
Currently, many markets receiving Vietnamese workers continue to impose travel and entry restrictions. Some of them, such as Japan, are only receiving experts with limited numbers. South Korea only allows entry for workers who work on fishing vessels. Taiwan accepts a limited number of workers under the condition that the employers must arrange a quarantine area for them, ensuring the regulations of the Taiwanese medical authorities.
Workers who have sufficient documentation, including a negative COVID-19 test, and are allowed entry to work in the host country, must strictly adhere to that country's requirements for medical examination and quarantine procedures.
The department of overseas labour management also asked service firms to advise employees to strictly comply with the regulations on medical examination of each host country, and coordinate with the partners to closely monitor their situation, ensuring the periodic medical examination and treatment for workers while being abroad.
What solutions has the DoLAB to support workers abroad who must return home and those who have not been able to work abroad?
The DoLAB has cooperated with the Ministry of Finance to introduce Circular No.54/2020/TT-BTC which aims to reduce 50 per cent of charges for the verification of documents for those working abroad under contracts until December 31.
A Vietnamese worker who lost his or her lost job due to the impact of the pandemic, will be imbursed for fees and charges and further supported with other relevant fees.
An employee who works less than 50 per cent of the time will receive back the same amount of the brokerage paid upfront. In addition, the employee only has to pay service fees according to the actual time working abroad.
What are the difficulties in training and improving workers' skills before going abroad, and what changes do you expect in major labour export markets in terms of occupations and quantity?
Most enterprises in countries receiving Vietnamese workers have to adjust their production plans, the volume of their personnel, and the recruitment of foreign workers to suit the current situation and conditions.
However, a number of occupations are still in dire need of foreign workers, mainly in essential services, such as medical care, food processing, agriculture, and fishing.
In order to enhance the quality of training and improve the qualifications of workers for going abroad, the DoLAB has focused on the following solutions.
Directly involved enterprises are urged to train workers before they are going to work abroad, ensuring that all of them are entitled to participate in necessary training classes in accordance with current regulations.
Relevant service enterprises with vocational training institutions and employment services are asked to provide labourers with vocational skills, foreign languages, and the discipline to meet the needs of foreign labour markets.
Moreover, the DoLAB is strengthening its support for enterprises to be able to recruit more workers who can be sent abroad by building and organising a network of overseas employment opportunities, providing sufficient information, and consulting local organisations. We hope that people will find enough information and find jobs that match their needs and skills. 
Source:  Hoang Oanh-VIR